BOOST YOUR CORE COMPETENCY IN HEDGE FUNDS USING
ADVANCED ANALYTICS
OPTIMIZE YOUR
PORTFOLIO IN SECONDS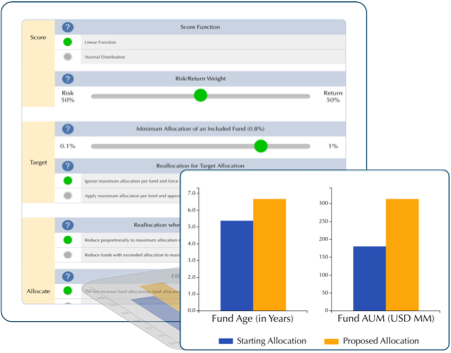 Align portfolio with your comprehensive set of requirements and assumptions about the future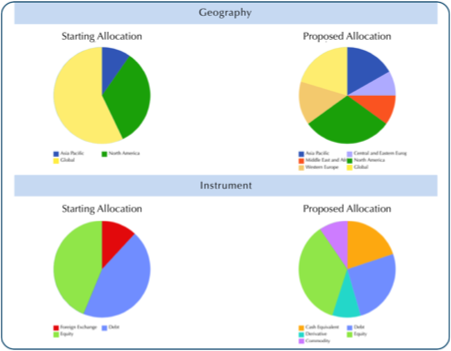 Analyze your portfolio along multiple risk exposure dimensions and align with
your risk preferences
Iterate and Build
Scenarios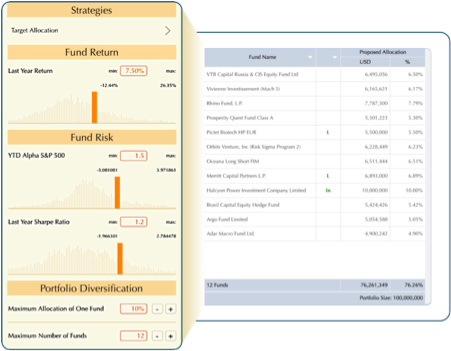 Change any requirement and
see impact on optimal portfolio;
build and compare what-if scenarios
Save time by applying a turnkey and iterative process that helps create and rebalance portfolios of hedge funds from over 6,000 hedge funds globally.


Get deep insight into your current and optimized portfolios using what-if analysis around changes in assumptions, preferences and requirements.
Align portfolio with investment requirements and risk preferences along several dimensions of risk exposure.


Rationalize your decisions by building, analyzing and comparing multiple portfolio rebalancing scenarios.
Validate results by leveraging a transparent process from requirements to optimization to risk analysis to pro-forma cash flow.


Perform deep analysis of external recommendations and evaluate their alignment with investment requirements and risk preferences.
Accelerate training of new hires by providing a beginning to end transparent rebalancing process, saving substantial training time and costs.